Michael S. Bonnano of Geraghty & Bonnano, LLC of New London, CT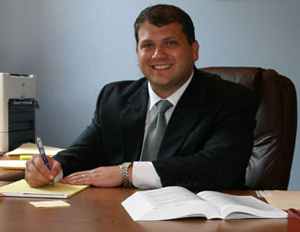 Michael is a native of the New London County area. After graduating from Waterford High School, Michael received a dual degree in political science and history from the University of Connecticut, Storrs. For his J.D., Michael attended the Villanova University School of Law located near Philadelphia, Pennsylvania.
At Villanova Law School, Michael served on the Honor Board and participated in the Reimel Moot Court competitions. Upon the completion of his first year at Villanova Law, he schooled for a summer semester at the University Of Florence, Italy, studying both domestic and foreign law. During law school, he also worked with the Law Firm of Corchin & Rosato, P.C., with a primary focus in the area of litigation. In his final year at Villanova Law, Michael also externed as a clerk for the Honorable Mary Collins, at City Hall in Philadelphia. Throughout his time clerking, he assisted the Court with numerous jury and bench trials.
Prior to starting Geraghty & Bonnano with Paul Geraghty, Michael worked as an Associate at Andrews, Young & Geraghty, P.C. located in downtown New London, Connecticut (CT).
Michael practices in a variety of legal areas, with a concentration in commercial civil litigation, residential and commercial land use, and the representation of businesses. He is admitted to practice in Connecticut Federal and State Courts as well as being a member of the Connecticut Bar Association, Connecticut Trial Lawyer's Association, American Trial Lawyer's Association, New London County Bar Association, and the American Bar Association.
Michael is an active member of the community, taking part in several charitable organizations. Since 2003, he has chaired a Parkinson's Disease fundraising committee called "Walk-With-Fred," which puts on several functions throughout the year, including an annual walk-a-thon that takes place each fall at Ocean Beach Park in New London, Connecticut (CT).